Cholera, which is usually transmitted through contaminated water or food, can be especially dangerous for infants and young children. Photo by Joao Souza
As a cholera outbreak breaks out in Lebanon for the first time in nearly three decades, experts warn that infants and young children are the age group most vulnerable to the vicious disease.
This situation is not unique to Lebanon. Reports and studies of previous cholera outbreaks show that young children tend to be more likely to contract the disease than children of other age groups. But Lebanon is also in the grip of a massive economic crisis that is limiting access to drinking water and health care. Are the risks increased?
Since cholera was first reported in northern Lebanon on October 5, more than 3,100 cases have been reported in the country. According to the statistics of the Ministry of Health, almost 45% of suspected and confirmed cases are under the age of 15, and 15% are between the ages of 15 and 24. But the age group with the most cases — a quarter of all cholera cases in the country — are children between the ages of zero and four.
Cholera, which is usually spread through contaminated water or food, "can be particularly dangerous for infants and young children, as they have a higher rate of infection and a greater risk of developing serious illness," explains Jennifer Moorehead, L'Orient Today, National Director for Lebanon of the British humanitarian organization Save the Children.
According to the Ministry of Health, cases of cholera have been confirmed in 8 mohafazats and 26 Kazakhs. As the disease spreads rapidly in Lebanon, the number of infected infants and children may continue to rise.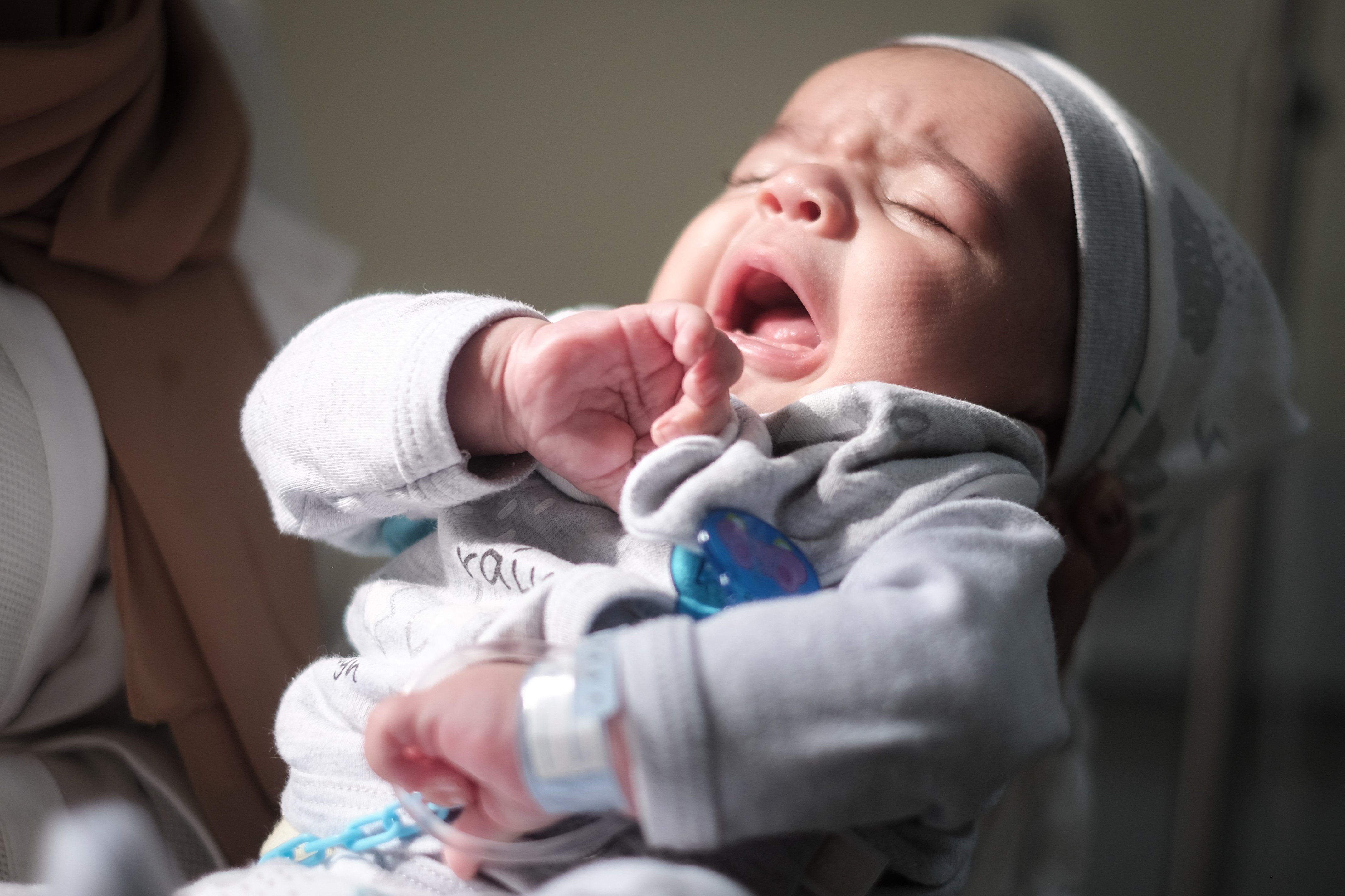 According to Ministry of Health statistics, a quarter of cholera cases in Lebanon occur in infants and children between the ages of 0 and 4 years. Abdullah is here, two and a half months, in the state hospital of Dr. Abdullah Raisi in Halba. Photo by Joao Souza
Reasons for vulnerability
Dr. Robert Sasi is in charge of pediatrics at the Beirut State Hospital in the Working Class Quarantine District. He told L'Orient Today that he believes babies are particularly vulnerable to cholera because of infant formula, which is made by mixing store-bought powder with water. In some cases, families cannot afford a regular supply of bottled drinking water and must make do with water potentially contaminated with V. cholerae, the bacteria that causes cholera.
At the same time, rates of breastfeeding in Lebanon remain low, Moorhead said. She recommends breastfeeding for children as "the main preventive measure for infants."
Dr. Sacy points out that the fatal complication of cholera is dehydration due to persistent watery diarrhoea. He notes that adults "are more aware of when they are dehydrated, whereas dehydration is more difficult to identify in children." The doctor adds that dehydration is more harmful to a child, whose body weight is much lower than that of an adult, and whose immunity is generally lower, and who loses 20% of fluid in the body. "The risk of getting cholera in children is much higher than in adults, especially if not treated immediately," the pediatrician continued.
According to the Ministry of Health, 93 hospital beds are currently occupied by patients with suspected cholera, but it is not known how many of these sick children.
Water pollution
Water pollution is the main cause of the cholera epidemic currently raging in Lebanon. Early data collected by Save the Children while sampling water in the Bekaa Valley revealed high levels of unsafe water in boreholes that are used to extract groundwater for private use, said Jennifer Moorhead. She adds that cholera is more likely to spread through water that is not properly chlorinated and treated.
In most cases, public water distribution infrastructure in Lebanon is still protected, meaning that the risk of these networks being contaminated remains "very low," Nadim Farjalla, an AUB professor who studies water infrastructure in Lebanon, told us recently. country.
Ms Moorhead insists that "it is critical to secure support for strengthening water and sanitation infrastructure in Lebanon with a focus on community-centric solutions." "This should include support for people living in IDP and refugee camps," she added.
The United Nations Children's Agency (UNICEF) has also sounded the alarm about children's particular vulnerability to cholera, stressing that food insecurity exacerbates the effects of the disease on children. As the disease spreads to neighboring Syria as well as Iraq, the agency called the current outbreak "another blow to the region's already overburdened health systems."
Source: L Orient Le Jour
I have been working as a news website author for the past year, and have written about a variety of healthcare-related topics. I am currently focusing on coverage of medical technology and innovation, as well as patient advocacy. I am also an avid cyclist and runner, and enjoy spending time outdoors exploring new trails or hitting the pavement for a run.